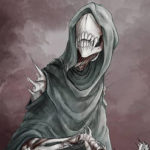 Table privée
Active il y a 1 mois et 3 semaines
The world of Mirrodin is beset by a dangerous foe. A mad prophet heralded the end of flesh, and the coming of the Machine. To the East of the Border, lands became iron and rivers quicksilver. And those dwelling there, monsters. It is up to our players to unite the fractured free folk, split by a century of greed, prejudice, hubris, and comfortable forgetfulness, and stop the rising tide.
Level of GM experience: Mid/high
Style of GMing: more narrative, less rules
World: Arcana/Manatech inspired early Renaissance medieval
Inspirations: Game of Thrones, Arcane (tv show), Magic the Gathering (Ravnica, Phyrexia, and Kaladesh)
Lethality: medium (some spells will be baned, magic will have Symbaroum's Corruption effect, Sanity effect in place)
Starting level: 2 or 3
Style of play: West Marshes
Minimum #Players total: 3
Minimum #Players session: 2
Max #Players total: flexible
Max #Players session: 6
Extras players are expected to wish to engage with: Stronghold building, Army management, Warfare, faction management
Note: this was my previous campaign, where I let players grow from lowly adventures into faction leaders and shapers of the world. As a West Marshes, playera are expected to make the world right through their choices – through combat, through diplomacy, through exploration… I have a world map and will work to have faction tokens to it is a crossover between DnD and Risk.